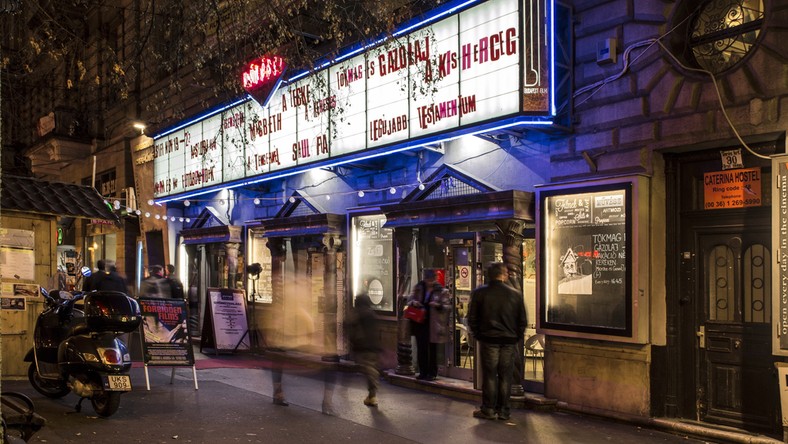 Budapest is grand, frequently beautiful and fortunately a bit dingy in the best of ways. You are renting a flat on Csengery utca in a happening, somewhat scruffy area of the city known as Erzsebetevaros. Yes, it's a rather hip part of town these days. Yet your courtyard building gives away no secrets behind its stern and weathered edifice across the street from a vacant lot. The Airbnb flat within is outfitted with all the mod cons, yet the inner courtyard and stairwell could prove a credible location for a film decades if not a century past (replete with a stairwell and corridor to the street so dark of an evening they seem the perfect location for foul play).
A great city can paralyze with its choices. So first, decide on a great building and go there. The building in this case, the Geological Institute, designed by the great Odon Lechner, frequently called, if a bit reductively, "the Hungarian Gaudi." Lechner a bright light in the branch of Art Nouveau known in this part of Europe as Secessionism.
Geological Institute and (right and below) The Museum of

Applied

Arts

by Odon Lechner.
Your first full day in the city, and after roaming around and gaping at Art Nouveau edifices, you finally alight for lunch at Bagolyvar, a traditional Hungarian place not far removed from the city park and zoo. Not quite so pricey as the neighboring Gundel, but still an unquestionably a formal dining experience.
The world may be getting smaller, not always in the best of ways. But the creep of homogeneity does have its sublime moments. As in this self-consciously elegant Hungarian eatery, replete with officious and well-bedecked waitstaff. You occupy the dining room with a couple of Japanese tourists, a group from France and several tables of older Hungarians indulging in this formality, this clinging to a more genteel past perhaps, this reverence for white linen table clothes and crisp service. And yet, the song coming through the speakers is, of all things, James Brown's "Try Me." Here we are. At the end of days? Beginning of other days? United, let us hope, by the genius of Mr. Brown.
Faces of Art Nouveau in Budapest.
Surreal is probably the wrong word. It is certainly over-applied. Perhaps dreamlike, perhaps hyper-real.
So your attempts to describe the atmosphere in the surprisingly intimate great hall of the Liszt Academy, not so far from your temporary dwelling place in Erzsebetvaros. You sit among the predominately Hungarian audience for a program of Brahms, Beethoven and Rameau. The conductor, bedecked relatively modestly in some sort of grey, banded collar outer garment, provides a rather lengthy introduction to the evening's program. Fortunately, you understand not a word of Magyar and all of this is lost on you. But the old fellow is pretty cute and more than a little endearing in his almost rubbery admonitions to the orchestra, once the show gets going.
When it is all over, the appreciative crowd first provide the usual rising and cresting waves of applause. But then the clapping becomes rhythmic. "What is this, a football match?," you can't help thinking. It actually seems a bit fascistic, this insistent, rhythmic clapping. But you eventually join in. Because you want to acknowledge our moving attempts to provide our own divinity.

As pleasing as the performance was, it's not quite as good as a weathered art nouveau facade, the like of which can be found all over Erzsebetvaros and the rest of Budapest. Because upon such building faces can be found both our striving and our vulnerability. Whereas these expressions of high culture are both something fine but also an attempt at advertising, a Facebook "look at our grand lives" centuries before Facebook. And yet behind that advertising, behind that thin veneer is also vulnerability. So you clap like it's a football match and our team just scored the winning goal.
The grand hall of the Liszt Academy, Budapest.
Sunday morning in Budapest and the night was very scant in its allowance of sleep. Should you play the vampire and finally take your repose once the sun is visible through the windows, or make an early start out into the city? Surprisingly yourself, you do the latter. Pest is quite sleepy at 8:00 a.m., while you buy a weekly transit pass and make your first foray into the Metro. But the tourists across the Danube in Buda are early risers and swarming about the fanciful towers of the Fisherman's Bastion atop the castle hill. You pause for a moment to appreciate the view back across the river and then descend the steps. Fortunately, tourists, like zombies or lowing cows are easily lost. You proceed on a hard target search for breakfast, a branch of a Budapest pancake restaurant called Nagyi Palacsintazoja (say that ten times fast, or once for that matter).
Happiness is sometimes such a simple thing. Two pancakes - one sweet, one savory - and espresso in Buda of a Sunday morning.
Expressions of Art Nouveau in Vizivaros, Buda.
Really, what better place to spend a brilliant early autumn afternoon than at the cemetery? It's not exactly Pere Lachaise or Highgate, but Budapest's Kerpesi Cemetery is a fairly grand and pastoral expanse of land devoted to the vanity of erecting monuments to corpses. It truly is a lot of conceit and foolishness (stroll around Graceland Cemetery in Chicago and the profusion of obelisks is like so many phalluses, sadly swinging through eternity after some sort of significance), this setting aside of land and last-ditch advertising. But at the same time, such places are often welcome plots of peaceful green space in the midst of great cities. Pose pious, step gingerly or urinate upon the dead - it hardly matters. But while you're here, why not find the grave of worthy Antal Szerb, whose great Journey By Moonlight you are reading just now. But there's no finding Szerb, early to his grave courtesy of a World War II death march. But you do stumble upon the grave of one of Hungary's most esteemed poets, Endre Ady. You recite the two Ady poems you know and assure old Endre that he is, indeed (as the persona of one of his poems decrees) the "cemetery king."
Grave of poet Endre Ady, Kerpesi Cemetery, Budapest.
Even with the luxury of no looming work week, there's something life-affirming in the Sunday night visit to the cinema. Fuck the calendar, the week, the temptation to hunker down and give the usual routine your best energy. Yes, fuck all of that. Let's go to the movies. So, to the Muvesz Mozi (cinema), just adjacent to Erzsebetvaros on the main street along which run the 4 and 6 trams.
A charming place the Muvesz, with each modest screening room named after a director. You take a seat in the Bunuel room (no Bergman?) for Lady Macbeth. You've seen the film before, but are quite happy to be reminded what an eloquent, acerbic, stark piece of work it is.

You see the young bride, Katherine, (Florence Pugh), regarded as essentially chattel, the braids of her hair like woodworking detail in the stiff settee in which she is posed on more than one occasion. You see that even worse than being a woman in this world, there is the even more tenuous existence of a woman of color, the servant Anna (Naomi Ackie), whose silent scream after Katherine perpetrates murder on her oppressive father-in-law is perhaps the film's most eloquent moment. You see this Ms. Pugh, to this point only having worked in television, so eminently ready for a bigger screen. This, my friends, is an arrival, with exclamation points provided by the young woman's redoubtable eyebrows.

You enjoy this Sunday evening at the cinema for these reasons. And for the fact that nary a bright little screen can be espied for the duration of the film, despite the fact that Hungarians seem not much less attached to their smart phones than Americans. And for the fact that you walk home along the boulevard called Terez korut which becomes Erzsebet korut, passing the fast food restaurants and the closed shops. And loneliness opens before you like a window to chill air. And while you might long for warmth, you know that this coldness will conjure your blood. It too will make you feel alive.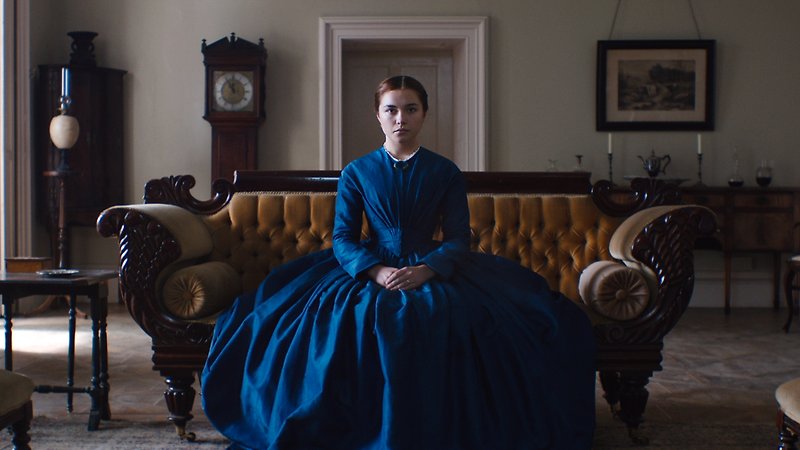 db