The vegetation of the Pacific Northwest, the fauna I guess, is dizzying not only in its teeming variety but its mad fecundity. Perhaps there's just as much variety in the my Midwest. But to leave Chicago in late March and drop into Oregon or Washington makes the contrast seem even more stark. This is as true in the midst of a fairly big city like Portland as it is when you go traipsing into the countryside of the Northwest. Or driving. Or strolling, I suppose. Or otherwise conveyed.
I sat in my friends' kitchen in Portland and watched the moss adhering to one of their backyard trees practically glow subsequent to an afternoon rain. So it seems to go with the moss and lichen in this part of the world. I stopped along a particularly verdant stretch the
Umqua River valley
in Oregon several years ago to clamber down to a creekside and it seemed as though my rental car itself would start to grow some some of the soft, green, glowing stuff if left stationary for a few minutes. So fecund did the environment feel.
This is the case all over the Northwest. A particularly dense example can be found in the Ho Rainforest of the Olympic National Park and Forest in Washington, most of which falls within the northerly lasso of U.S. 101. At the Ho Rainforest, there is a kind of chapel to this swoony vegetation called the Hall of Mosses. Along the trail, which is just less than a mile, the instructive signs betray some Park Service employee waxing poetic in describing the rich scenes. It's understandable - walk around in this forest, and you might be driven to bad poetry or at least lots of picture taking. I tried to confine myself to the latter.
A last visit with the Pacific before heading inland - Ruby Beach, Olympic National Park.
After several days of almost constant movement, we wanted to get to our room for the evening with some time to enjoy the place, particularly since we were bound for lodgings slightly more well-appointed than those of the previous evening.
If you're ever bound for The Lake Quinault Lodge, be sure to turn onto SOUTH Shore Road from U.S. 101, not North Shore Road, as I did. The mistake I realized quickly enough. But I thought I would just drive around the lake until I reached the southern branch of the road. And while this did eventually happen, it brought about one of those nervous, rural drives in which asphalt gives way to gravel, the comfortable gravel road narrows to be a single lane of dirt, pocked with tire-menacing potholes and a flat tire begins to seem like only one of the dire possibilities facing you out in the middle of nowhere. With considerable relief then, we finally reached the lovely Lake Quinault Lodge.
Indeed, so lovely is the old lodge that I immediately wished we had more than one evening to there pass. The current building dates to 1926, constructed after fire destroyed most of the original 1890s structure. Though now corporate run (the lodge itself is part of the park system), they seem to have maintained the charm and aesthetics of the 1920s or 30s. It was nice to find no television in the room. But worry not - there is wifi.
The lodge and area might teem with guests and vacationers in high summer, but its relative seclusion and modest size would seem to provide a kind of built-in limit. At least it worked out that way in late-March. Since the general store across the street is closed until April and there's no other options close by, you also have that resort experience of taking your meals in the same place, among the same people, the fellow guests you might also see heading off for hikes or lounging in the big fireplace room opposite the bar (tended on our night of stay by a lady who appeared to be having a very long day or perhaps life; when I asked her to add a little water to my Bushmills, you might have surmised from the look on her face I asked her to swim to the other side of Lake Quinault to fetch the water from a pristine creek or spring). This can all be very charming, or a form of torture, depending upon the sufferability of one's fellow guests. We did well enough, only occasionally disturbed from our drinks and fireplace reveries by a nearby group of cackling ladies obviously enjoying their vacation.
We prolonged our stay the next morning, by heading across the road to hike up into the forest, around clear and occasionally cascading Falls Creek and even into a nearby bog, the yellow lilies (I think) therein just beginning to poke their flowers above the soft ground. And prior to our reluctant departure, respects were also paid to the world's largest Sitka Spruce, a massive, redoubtable old thing apparently about 1,000 years old.
Bound for Seattle, we had to retrace our route back through Hoquiam and Aberdeen to catch U.S. 12 east. Since Olympia was directly on the way, we stopped there for lunch. The delicious food at Darby's Cafe - opposite the Capital Theater, which I hope to see on a subsequent trip - was only a part of the varied, if very brief, helping of Olympia culture to which we were privy. Driving through Olympia and then joining Interstate 5 on its progress north also allowed me to pass beneath the exit sign for the road which bears the name after which (I believe) the dearly-departed Sleater-Kinney was named.
The last hour of a long drive is often that one that gets you. So it was as we tried to make our way to the Ace Hotel in Seattle. Found my exit, had a feel for where I was going, then we ran into a street fair near the Seattle Art Museum. This merely hardens my enmity for street fairs. Then, on an adjacent avenue, some major accident had taken place, which brought about the parking of many Seattle police cars and the further closing of lanes.
The Seattle Ace is much smaller and presumably more laid-back than its more famous (notorious) Portland sibling. Can't say how insufferably hipster the Portland version might be, but the modest Seattle hotel just seems like a lot of good ideas in design and relative sustainability. Mainly they had me at the Eames rocker in our room. I can be very easy that way. But the filtered water pitcher in each room, the simple, elegant design and friendly staff didn't hurt. And if you stay on the shared bathrooms floor - each of the row of these roomy, high-ceilinged and quite private - as did we, it's cheaper and better located than most hotels you'll find in Seattle I believe. I now feel as though the hotel should comp me for my visit, after all this praise. Please contact me at the e-mail address listed above....
As usual, I arrived in town with little time to spare before an evening screening. I really wanted to visit the Seattle Cinerama Theater, one of only three left in the world, not far from us in the Belltown neighborhood, but couldn't quite bring myself to see Oz The Great and Powerful, as I feared it would prove to be Oz The Dumb and Painfully Lame. So we began to hoof it over to the Capital Hill neighborhood, in search of The Harvard Exit Theater. Eventually, the services of cab were clearly called for if we were going to make it to the theater in time. We happened upon a fairly hilarious cabbie with a croaking voice, apparently one of the bigger fans in the world of the actor Chi McBride. Go figure. Rarely have I heard a man so frequently use the word bitch in a conversation with such an air of amiability. My female companion, laughing through most of the short ride, can attest to this. In our brief but widely-ranging television show stream of consciousness discussion, we found ourselves at Charmed, of all things. When the cabbie first mentioned "that Irish bitch" who had so much presence, it took me a moment and a brief run-through of actresses to realize that he was talking about Shannen Doherty. I agreed that Ms. Doherty did indeed have a strong kind of presence and stated my belief that her departure was probably due to a power play on the part of that Alyssa Milano.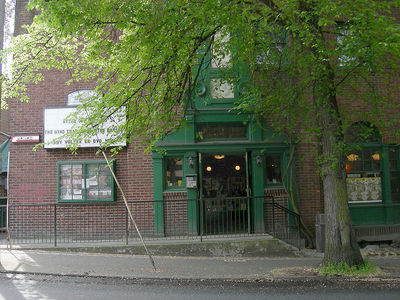 My initial looks at the unassuming brick facade and warm lobby of the Harvard Exit Theater made me think it must have been some sort of club building, the meeting place of some society or other. And indeed, the building constructed in 1926 clearly not as a movie theater, was built for The Woman's Century Club. Apparently a couple of movie buff Boeing engineers bought the building in 1969 and converted it into a movie theater, utilizing the main floor auditorium for screenings. In 1981, an upper ballroom was converted into a second theater. It was in this "Top of the Exit" that we took seats for our screening.
There have been many reports over the decades of the Century Club and Harvard Exit Theater being a popular spot for ghosts. Perhaps such visitations ended in 1987 as some think. We few assembled for the first Sunday evening showing of Lore were haunted only by the images on screen. Lore is the second feature from Australian director Cate Shortland. It's subject of a group of siblings sent across Germany in the initial days after the loss of the Second World War and the suicide of Hitler is not necessarily what you would expect if you happened to have seen Ms. Shortland's satisfying debut, Somersault (2004).
Although that first film was set in the relative present day of the director's native Australia, both Somersault and Lore concern themselves to a large degree with young women wandering beyond the protection of their families. Lore is an impressive and engrossing feat of storytelling, both in the tale as written and as photographed. It shows considerable grace on the part of its director, involving us with characters - if not outright Nazis, children who haven't at the outset thought to consider anything fundamentally wrong with their government and leader - who are in some ways, in certain moments disagreeable and yet overall sympathetic. And there are the visual contrasts of the film's lyrical interludes to the numerous unpleasant images of the war's aftermath that Ms. Shortland manages to balance without letting either extreme derail the film's progress. Both Somersault and Lore are well worth seeking out.
A day that began with a big breakfast at Lake Quinault Lodge ended at a Belltown eatery at which we alighted on the good advice of the woman who checked us in at the Ace. We happily devoured a late Sunday dinner of rabbit pate, beet salad and a plate of winter squash risotto, chased with a very agreeable cocktail and then a beer. Not for the first time during the trip, I considered with gratitude the day's many luxuries.
The Harvard Exit Theater now and in its previous life as The Woman's Century Club.
db